JOCHEN ZAUN, MANAGING DIRECTOR
Our progress is our customer's leading edge.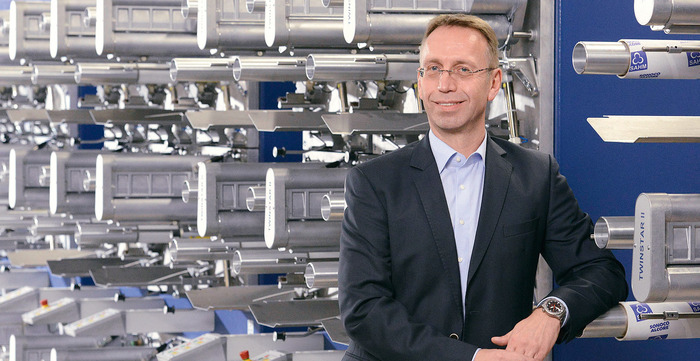 Our promise
High-tech. Made with SAHM Winding Technology.
Manufacturing high-tech products requires high-quality components. The quality of high-tech textile materials is heavily dependent on the production and processing of the technical yarns involved.
Here, early on, factors such as yarn tension, winding speed and winding precision determine whether a technical yarn will be fit to be made into a perfect high-tech product.
With "Made with SAHM Winding Technology" we give customers our quality promise: You are getting the perfect basis for all downstream production and finishing processes.
Management
Together and responsible. Economical, social and sustainable.
Profile
Made in Germany. Leading worldwide.

The name SAHM is synonymous worldwide with pioneering innovations in precision winding machinery and peripheral systems. As technology leader especially in the field of automatic precision winders for high performance fibers and technical yarns, we continue to set new standards.
Research, development, planning, production, quality assurance – our company headquarters in Eschwege, Germany, is where all our innovative products originate. From here, again and again, we strike out in new directions – setting the bar high in terms of quality and functionality, and with a passion for precision.
With branches in Fountain Inn, SC/USA and Guangzhou, China, and supported by a global network of authorized agents, we show strong presence on international markets and maintain reliable proximity to our customers on all continents. This close contact with customers and local agents keeps us prepared for individual customer wishes and helps us realise them.
Our company employs 200 people, including 18 apprentices.
Quality
A keen eye for detail. From the start.

All our products are subjected to stringent quality and functional testing. The final inspection involves putting them through their paces in a practical trial in order to meet all the defined criteria and the requirements that have been specified. Often these tests take place in the presence of our customers.
But the quality SAHM is famous for begins not on the testing floor, but on the drawing board. SAHM products, on principle, are designed robust and durable. In addition, the quality of every material used, of every tiny component, of every single screw is defined and meticulously examined, down to the smallest detail.
Ambitious thinking has another logical consequence for SAHM: a high degree of vertical integration. All quality-relevant parts and components are developed and manufactured in-house. Our customers get products made by SAHM and made in Germany.
Research and Development
Leading technology. For today and the future.

Research and ongoing development are the basis of the worldwide success of SAHM winders and process-oriented systems. To future-proof our leading role against international competition, we have to stay one step ahead - or two.
Comprehensive fundamental research relevant to materials, products and processes enables us to offer the best possible solutuon for almost every customer requirement. We can realize an optimal winding solution for practically any material you can think of.
Jointly developed hardware and software is another key to our technological lead. SAHM's solutions are convincing because engineers and programmers develop them from the outset in dialogue.
Also essential to the way we work is looking beyond the horizon: Our team of developers works in close cooperation with partners and customers, investing passion and know-how in innovative advances with tomorrow's markets in mind.
History
Strong roots. Solid growth.
The origins of the SAHM brand go back more than 75 years. The engineer Georg Sahm laid the groundwork in 1945, when he set up a small tool manufacturing business in Eschwege – Georg Sahm GmbH & Co. KG.
Already four years later, the company founder began developing winding machines for the sewing thread industry. A far-sighted move, shaping the focus of the SAHM brand to this day.
The following decades have seen the continuous expansion of our knowledge and skill in the winding technology field. Today the SAHM brand sets worldwide standards with innovative products.
Since 2002 we are proud to belong to the globally operating STARLINGER GROUP based in Vienna, Austria.
Starlinger Group
Strong partners. A successful family.

Since 2002, SAHM has been a member of the Austrian-based STARLINGER GROUP. Starlinger leads the world market in production machinery for sacks, packaging fabrics, and technical textiles woven from plastic tapes. The family-owned company has been firmly established in this field for over 50 years.
Both technical and product development at Starlinger aim to achieve the highest quality standards for the respective applications while being cost-efficient and environmentally sustainable.
In the interest of resource-saving production, Starlinger began more than 30 years ago with the development and manufacturing of plastics recycling lines. This too has become a highly successful line of business for the company.
With around 750 employees, generating an annual turnover of over € 250 Mio. the Starlinger Group is a strong partner worldwide.
Besides SAHM, two other independent companies belong to the international Starlinger Group:
Partnerships
Interdisciplinary networking. Achieving more together.

Successful collaborative partnership depends on an open exchange of ideas and experience. Our sales team, our partners, our agents and, not least, our R&D department engage in direct dialogue with our customers, seeking to work out the best possible solutions for their individual requirements.
The mutual exchange of know-how and experience, always on an equal footing, opens up new perspectives and new leads for all parties involved. Out of this trusting cooperation arise pioneering technological developments which strengthen the position of all parties on the world market.